A Kingdom For Kids! It's not just a slogan — it's a commitment to young children and their families that beyond our castle walls is a place just for them called A Kingdom For Kids!, where family fun is proclaimed by royal decree. Since opening on May, 20, 1963, Dutch Wonderland has consistently been recognized as a premier family amusement park and has been voted one of the Top 5 Best Kid's Park in the World by Amusement Today magazine. I remember going there as a small child and always having the most fun! One of my favorites was the giant slide that you would ride down on a burlap mat.
Having your birthday party, other celebrations, family outing, and Scouting events at Dutch Wonderland is easy with catered options, picnic lunch boxes, and cabana rentals. With attractions like ChooChoo Charlie, Frog Hopper, Dragon's Lair, Duke's Lagoon and so much more, Dutch Wonderland is a favorite amongst children of all ages!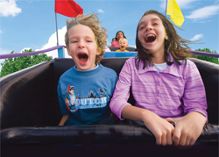 I plan on taking my son there in early fall. I'm super excited to learn that new for 2012, Merlin and friends are hosting a magical buffet-style breakfast inside the Dutch Wonderland Castle. You can meet Princess Brooke, the Dutch Wonderland Knight, Duke and of course, Merlin as you enjoy a yummy breakfast fit for royalty! Food selections include pancakes, scrambled eggs, sausage links, bagels, fruit, cereal, milk, juice and coffee. Sounds delicious!
Time: 9:00am – 10:00am (service ends at 10:00am)
Location: Merlin's Restaurant (located inside Dutch Wonderland)
Dates: June 23 and 24, then Fridays – Sundays through September 2, 2012
Now onto the savings! You can save up to $20 off Royalty Admission. US Family Guide is offering $5 savings off the Royalty Admission price of $35.99. This is valid for up to 4 admissions. You must purchase tickets online and just simply use the promo code 2012USFG to save. Click HERE for savings.
I was financially compensated with free admission to Dutch Wonderland for this post. However, this is my opinion. No one has influenced me otherwise.