Marvel Studios' global phenomenon BLACK PANTHER is now available on Digital, 4K Ultra HD™, Blu-ray™, DVD and On-Demand. As part of the #InfinityWarEvent press trip out to California, we had a chance to screen bonus features from the film, and chat with BLACK PANTHER Executive Producer, Nate Moore!
Marvel Studios' BLACK PANTHER follows T'Challa who, after the death of his father, the King of Wakanda, returns home to the isolated, technologically advanced African nation to succeed to the throne and take his rightful place as king. But when a powerful old enemy reappears, T'Challa's mettle as king—and Black Panther—is tested when he is drawn into a formidable conflict that puts the fate of Wakanda and the entire world at risk. Faced with treachery and danger, the young king must rally his allies and release the full power of Black Panther to defeat his foes and secure the safety of his people and their way of life.
If you missed BLACK PANTHER in the theatres, don't miss it on home entertainment! There is a reason this film has made well over $1 BILLION worldwide. What's great about BLACK PANTHER on home entertainment is that the film is packaged in a variety of ways to ensure fans get the most out of their in-home viewing experience. 
The Multiscreen Edition includes Blu-ray, and a Digital Copy, giving viewers the flexibility to watch the film on different devices. Those with 4K Ultra HD capability may opt for a 4K UHD Collector's Edition, including 4K Ultra HD disc with Dolby Vision and Dolby Atmos, Blu-ray disc, and a digital copy (where available).
When we sat down with Nate, he showed us a few of the amazing bonus features you will find on the home entertainment editions of BLACK PANTHER. You can expect director's commentary, deleted scenes, and so on, but the first one he showed us was The Crowning of a New King. This feature shows how the creative team put Wakanda together from production design to visual effects to the cast and story!
The second was The Warriors Within, which shows you the women of Wakanda and strong female leads in the film. You'll learn how the creative team brought Okoye, Nakia, and Shuri to life on the big screen! Check out the preview of this bonus feature below…
The third bonus feature we watched was Hidden Kingdom Revealed. This feature dived more into how the different tribes were crafted to create Wakanda.
Nate describe how he wanted to make sure Wakanda felt as authentic as possible for being a fictional African nation. The features showcases some of the real-life reference used in the film.
Check out these two bonus clips from the Hidden Kingdom Revealed feature!


Chat with Nate Moore, Executive Producer

How do producers choose bonus features…
Nate: We kind of have a brainstorming session where people get to pitch out ideas of what they think is interesting and also what footage we have that we can show (the viewers). So, the typical ones like deleted scenes and gag reels, we know we're going to do. Once we kind of get a sense of what people are responding to sort of out in the world, we can craft our features based on that. This movie just happened to have a lot of really in-depth stuff because the building of Wakanda was so complicated. We had a lot of stories to tell from this one.
Why are some scenes cut-out? Nate replied that it typically has to do with the pace of the film. "Our director's cuts are always really long and it's no secret." He went on to describe how with a script, there are certain scenes that are very necessary storytelling wise. Those scenes they try to keep.
Nate: For instance, there's a great scene in the deleted scenes between Okoye and W'Kabi, and it's after Killmonger has taken the throne. It's their sort of differing points of view as to what side to take. It's a fantastic scene. Danai (Gurira) and Daniel Kaluuya do a fantastic job in it. We kept it in every cut of the movie through testing because we thought it was so important for people to understand the relationship. When we pulled it, we found that audiences understood just as well, but the pace issue we had for that part of the movie went away. So, people got really frustrated in waiting for T'Challa to come back. So, the shorter we made that area, the better it played.
A unique bonus feature… As Nate described above, viewers will see deleted scenes, gag reels, director commentary… but one particular feature that I'm excited to watch is a roundtable discussion with some of the actual writers of the Black Panther comics!

Nate: We did an interesting thing which we've never done before, and we might try again, where we did a roundtable with some of the actual writers of the comic. (You) hear from the people who create the character: Don McGregor who did a run in Jungle Action; Christopher Priest who did sort of a seminal run in the '90s; and then Ta-Nehisi Coates is doing the run now with Ryan and Joe Robert Cole, who co-wrote the movie. To sort of hear what they thought worked and didn't and things that they found challenging about the character when they were writing, it was sort of interesting to see how through different eras the character was handled and different challenges they faced because of audience expectation and market expectation.
One of my favorite subjects to chat about in interviews is the casting stories! I always think it's interesting how the creators find their actors, or how someone becomes involved with a project.
Casting…
Nate: (Casting) was really combination of three things. We inherited some cast. Chadwick (Boseman) was obviously in CIVIL WAR.
Nate: Andy Serkis had been in AVENGERS: AGE OF ULTRON. Martin Freeman had been in CIVIL WAR. When we hired Ryan (Coogler), one of the first things he said was I would love to find a role for Michael B. Jordan because they had done FRUITVALE and CREED together. So, he became Killmonger. Ryan suggested Lupita (Nyong'o), which was an easy sell. Ryan suggested Danai (Gurira), which was an easy sell. We collectively went out to Angela Bassett thinking there's no way she's going to do this movie because man, she's so fantastic! And she was game. Daniel Kaluuya was a Ryan Coogler idea.
Nate: The two people we found together (were) Letitia Wright as Shuri, and Winston Duke as M'Baku. We did a pretty wide-ranging casting search for them. M'Baku was great because none of us had really ever encountered Winston before and his size and his presence was just so dynamic even on tapes in a room reading against nobody, he was fantastic.
Nate: Then Shuri, Letitia Wright, we ended up doing two rounds with other actresses and reading with Chad. It was really about chemistry with Chadwick. It was true on the day and it's still true, Letitia was one of the few people who could actually get Chad to laugh naturally, because Chad is a very reserved person. But in the audition, it was like oh, that's his sister. And even on set, she's one of the few people that he actually relaxes around and she so fantastic.
On Stan Lee's cameo…
Nate: The only time anybody gets star struck is when Stan comes to set. He's the only one that people want to take pictures with and want to get autographs and he's game for everything.
On development and pre-production…

Nate: The most fun is development because everything's on the table. There are no bad ideas and there's nothing you can't afford and there's nothing you can't execute because it's just on a page. Then you start to whittle away the things you can actually accomplish versus what you can't. So, pre-production is kind of a painful process because it becomes a "what can we do" which necessarily means "what can't we do" and that's always hard. But then production gets to be fun again because now these decisions you made are finally coming to life.
Nate: So, you're seeing these scenes that you hope work, either work or don't work. And again, in this case, our actors were so locked in and their performances were so good, even on the day we're like "oh, man, that was a great scene". We got really excited. And then post (production) is again, kind of painful because you're having to say goodbye to some scenes that you love but you're getting to play with music which is a lot of fun and the music is such a strong character in the movie. And our composer, Ludwig Goransson, is so talented. And the Kendrick (Lamar) deal kind of came in at the same time.
If you are wondering what kind of crazy idea might have come from pre-production, the rhinos were one of them! One of the stunt coordinators actually pitched the idea and Ryan Coogler loved it! "We actually had in our production office, a giant cut out of how big we thought the rhino would be and we had different sizes." Nate noted.  "Because we wanted it to be imposing and cool but we didn't want it to be sort of prehistoric and outlandish."
He went on to describe how that on set, since they obviously didn't have a rhino, they built different bucks to interact with the stunt people. Sometimes the "rhino" would just be a golf cart with a little rhino horn tied to it! The creative team and the VFX production assistants did a great job in creating "rhinos" for the set before the computer generated rhinos were added in. This antidote just kind of reiterates how BLACK PANTHER is such a creative and unique production.
Black Panther on Home Entertainment
BONUS MATERIAL (may vary by retailer):
Blu-ray:
Director's Intro

From Page to Screen: A Roundtable Discussion – Delve into the film's making

Crowning of a New King – Explore the world of "Black Panther" in all its color and complexity

The Warriors Within – Get to know Wakanda's women and the actors who portray them

The Hidden Kingdom Revealed – Wakanda's diverse people

Wakanda Revealed: Exploring the Technology

Deleted Scenes

N. Meet and Greet

Okoye And W'Kabi Discuss the Future of Wakanda

T'Challa Remembers His Father

Voices from the Past

Gag Reel

Exclusive Sneak Peek at "Ant-Man and The Wasp"

Marvel Studios the First Ten Years: Connecting the Universe

Director's Commentary
Digital Exclusives:
In World Wakanda Tourism Ads

Come to Wakanda "Before"

Come to Wakanda "After"
Don't forget… Black Panther is now on Digital!
You can connect with BLACK PANTHER on Facebook and Twitter!
Also be sure to download fun BLACK PANTHER Bingo Cards and a BLACK PANTHER Activity Packet! Simply click the buttons below to download and print.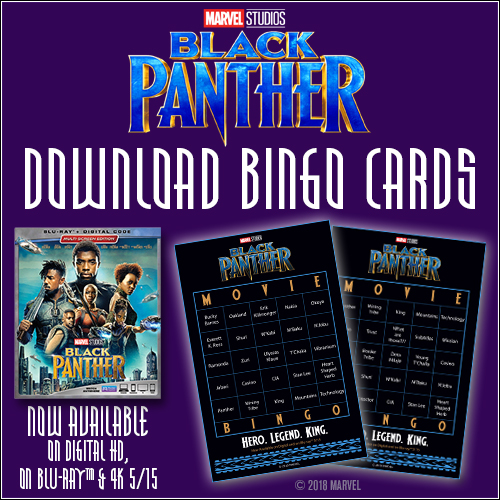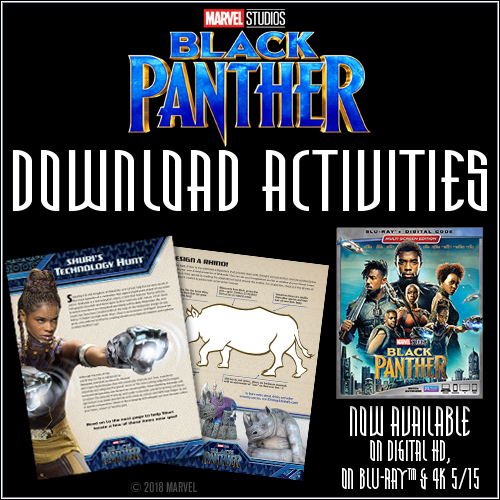 Want to see more of my adventures in LA? We can connect on Twitter (@AshBG) and on Instagram (@ashb4211). Make sure you check out the hashtags #InfinityWarEvent, #Quantico, #ABCTVEvent, and #BlackPantherBluRay!
While I attended an expense paid trip by Disney to Los Angeles, all opinions are 100% my own.